The "human connection" between diabetic patients and pharmacists in the Harmonium Pharma healthcare ecosystem
Harmonium Pharma is a healthcare company that has created a healthcare ecosystem focused on diabetes.
Diabetes is a chronic condition that leads to several complications while significantly impacting the quality of life of those affected. Like any chronic condition, it requires a multidisciplinary approach to the single clinical case, but usually, unfortunately this does not happen. The patient visits his diabetologist once or twice a year and, in the remaining time, is literally "left to his own fate" in managing a such complex disease.
The other doctors (e.g. ophthalmologist, cardiologist, nutritionist) supporting him in managing the various aspects of the disease, are involved in the ecosystem by the patient himself. Therefore, he bears the burden of orchestrating his different needs.
Harmonium Pharma brings to market an integrated portfolio of products and services that helps diabetics manage day by day his disease and prevent complications. The company is also going to launch a "first remote medical consultation" service, aimed at early identifying patients at risk of becoming ill.
Offering components
Products for diabetics that can be purchased at affiliated pharmacies (having the so-called "diabetic corner") or on-line;
Counselling service at the same affiliated pharmacies where trained staff provides the patient with a dedicated space and answers to his questions;
Digital services via digital platform (https://www.angolodeldiabetico.it) platform, aimed at:

obtaining valuable information on the best way to live with diabetes

finding the nearest physical services i.e. pharmacies and patient associations

online purchasing of drugs

using the "virtual remote consultations" service designed to early identify people at risk of diabetes as well as to manage post-acute events. This service will involve various specialists of the diabetic ecosystem such as diabetologist, nutritionist, podiatrist, cardiologist, ophthalmologist.
Actors of Harmonium Pharma ecosystem
The ecosystem includes pharmacies, diabetologists and other specialists for remote consultation, patients' associations and a digital infrastructure provider.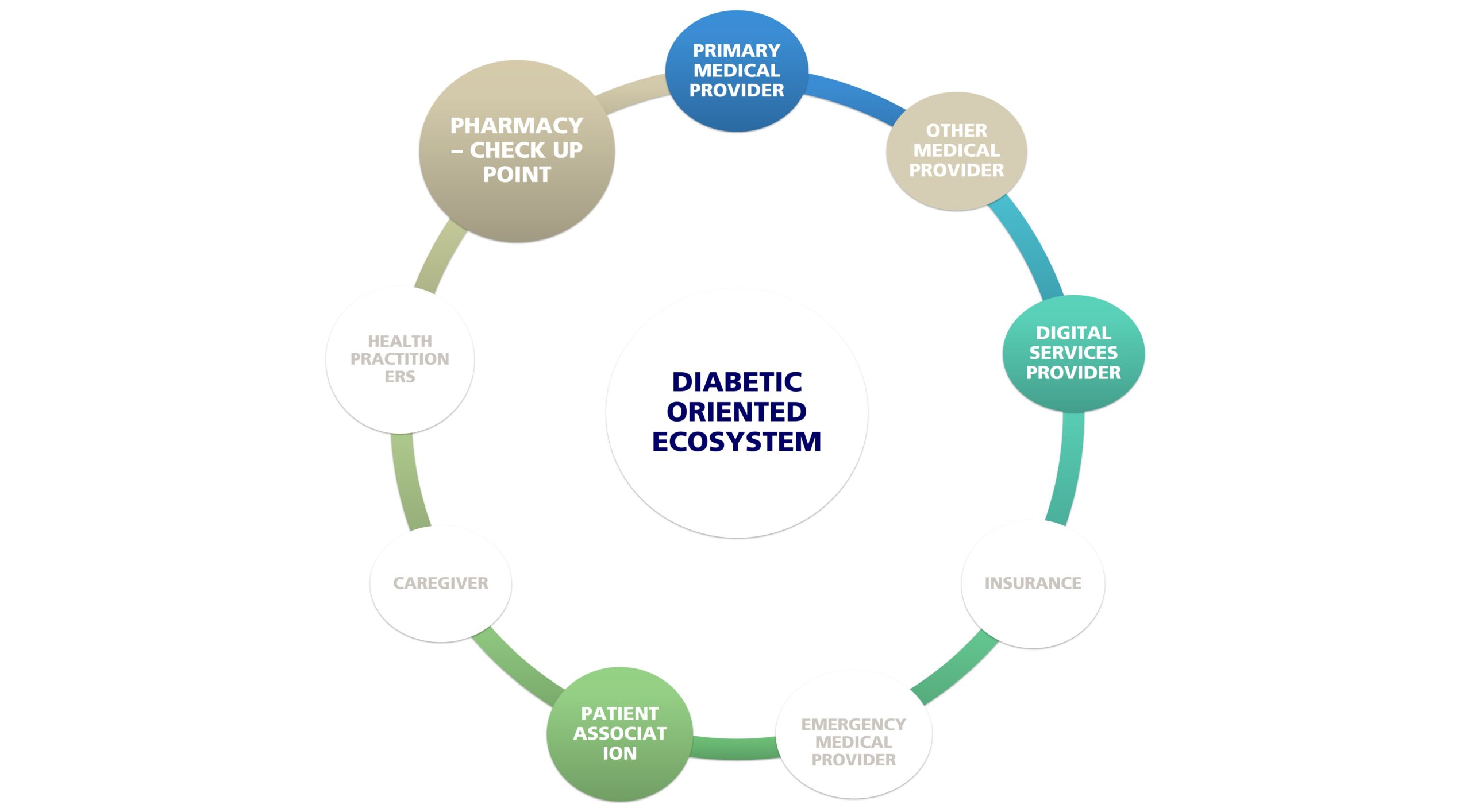 Within Harmonium Pharma's healthcare ecosystem, pharmacies play a key role in maintaining a human connection with patients. Pharmacies are clearly intended as a first territorial aid for diabetics.
Pharmacies will play an ever more significant role in health ecosystems, helping to bridge the huge gap between local health services demand and offer.
Harmonium Pharma is also considering expanding his portfolio of services, including a partnership with insurance companies and a digital "track coach progress reward" program aimed at keeping patients actively involved in disease management education, including physical or virtual rewards.